Halloween is right around the corner and it is on a Saturday this year so there will be plenty of neighborhood gatherings and parties.
Lots of food will be passed around and it will be a day for lots of fun.
So what are you bringing or making?
If you need some clever ideas I have compiled a list of popular halloween recipes and treats.
Here we go!
Recipe #1:  Fingers In A Bun By PartyTipz
This one is super easy and if you have older children they will love this recipe.  It is gross looking, but it it is a really cool Halloween idea.
Just grill the hotdogs like normal and then cut out part of the skin so it looks like a nail bed.  Make some cuts crosswise on the hotdog to make the knuckle.  Then place it in a bun that already has ketchup on it.
Super simple right?  Check out how real these look.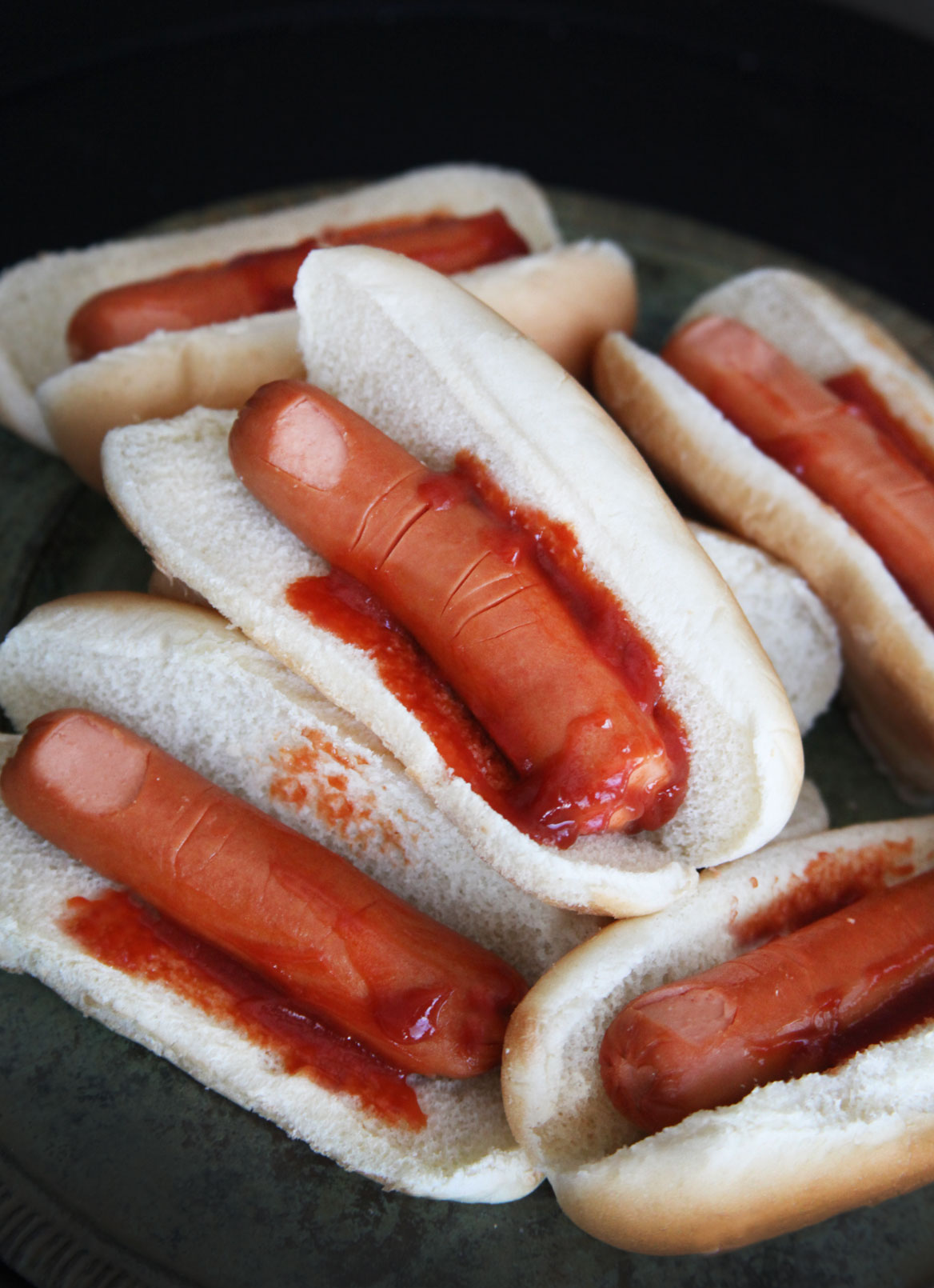 ---
Recipe #2:  Chocolate Peanut Butter Cookies from A Spicy Perspective
Ingredients:
1/2 cup unsalted butter, softened

3/4 cup smooth peanut butter

1/3 cup brown sugar

1/2 cup granulated sugar

1 teaspoon vanilla extract

1 large egg

1 1/4 cup all purpose flour

3/4 teaspoon baking powder

1/4 teaspoon baking soda

1 teaspoon salt

24 round chocolate truffles (I used Lindt Truffles.)

3/4 cup semisweet chocolate chips

48 candy eyes
Directions:
Preheat the oven to 350 degrees F. Line two baking sheets with parchment paper and set aside.

Place the softened butter and peanut butter in the mixer and beat until fluffy. Then add both sugar and beat again until fluffy. Scrape the bowl and beat in the vanilla and egg.

In a separate bowl mix the flour, baking powder, baking soda and salt together. Turn the mixer on low to slowly incorporate the flour mixture.

Roll the cookie dough into 24 – 1 1/2 tablespoon balls and spread 12 out on each cookie sheet. Bake for 10 minutes. Remove from the oven. Quickly use a pestle to press a cavity in the middle of each cookie. Then place back in the oven and bake another 6-10 minutes, until golden.

Meanwhile, unwrap all the chocolate truffles. Once the cookies are out of the oven, cool until almost at room temperature (but not very warm) and place a truffle in the cavity of each cookie. If the cookies are too warm, the truffle will melt. If the cookies are cool, the truffle won't stick. (You can also wait until the cookies are completely cool, then glue the truffles in with chocolate to be safe.)

Melt the chocolate chips in the microwave in 30 second increments, stirring in between, until melted and smooth. Scoop the melted chocolate in a zip bag. Close the bag and snip off a small portion of one corner to create a hole. Pipe 8 legs on each cookie, starting from the truffle body down.

Then use the remaining melted chocolate to glue 2 eyes onto each truffle spider. Cool until the chocolate is firm and serve.
---
Recipe #3:  Halloween Poppers from The Hopeless Housewife
This is one of my favorites.  They look so cool!
They are pretty simple to make and the author Erika from The Hopeless Housewife provides simple instructions below.
10 jalapeño peppers, sliced in half lengthwise and pith/ seeds removed (use rubber gloves so your hands don't burn from the jalapeño). Leave the stem if you can on some or all of the halves.

8 ounces cream cheese, room temperature

8 ounces jack cheese, shredded

1 scallion (green onion), finely chopped

½ teaspoon salt

1 package refrigerated crescent rolls (I use Pillsbury)

2 eggs, beaten

candy eyeballs (can be purchased at Michael's or on Amazon or you can always use a little cream cheese and piece of a black olive for the eyes)
Preheat oven 400° F. In a small bowl, mix the cream cheese, jack cheese, scallion and salt until well blended.

Roll out the crescent rolls and separate into 4 rectangles (not triangles) with a perforation in the middle of each. Press your fingers into the perforations to seal them. Using a pizza cutter, cut each rectangle into 10 long pieces lengthwise.

Fill each jalepeño half with the cheese mixture. Wrap each jalapeño half with the dough, leaving a space for the eyes. Use two pieces of dough if necessary. Brush with egg mixture and place on baking sheet.

Bake in oven for 8-10 minutes. Remove from the oven and press the eyes into the cheese where the opening is. Remove eyes before eating. You may also use a little cream cheese and a piece of black olive for the eyes. Serve immediately.
---
Recipe #4:  Pumpkin Cheesecake Truffle Mummies from Le Creme De La Crumb
These are the perfect no bake recipe that everyone will love.
Makes about 14 truffles
INGREDIENTS
1½ cups gingersnap cookie crumbs

¼ cup canned pumpkin purée

⅓ cup graham cracker crumbs

3 tablespoons powdered sugar

¼ teaspoon ground cinnamon

⅛ teaspoon salt

3 ounces cream cheese, softened

½ cup white chocolate chips

white chocolate chips or white dipping chocolate (like CandiQuik)

red food coloring
In a large bowl combine gingersnap crumbs, pumpkin puree, graham cracker crumbs, powdered sugar, cinnamon, salt, and cream cheese. Mix until smooth. Melt ½ cup white chocolate chips and mix into truffle mixture.

Cover and chill until dough is solid enough to roll into balls – about 1 hour in the fridge or 30 minutes in the freezer. When cold enough, roll mixture into 12-14 balls. Place a toothpick in each ball.

Melt remaining white chocolate chips or white dipping chocolate in a small bowl. Use toothpicks to dip each truffle ball into the white chocolate, being sure to coat all sides. Gently shake off excess chocolate. Place chocolate-covered truffle balls on a baking sheet or plate lined with wax paper, parchment paper, or foil. Chill for 3-5 minutes until chocolate hardens.

Drizzle more white chocolate over the truffles. Soak the end of a Q-tip in red food cloring. Dap 2 dots of food coloring to make the mummy eyes. Handle carefully so you don't wipe off the eyes. Store chilled in airtight container.
---
Recipe #5:  Strawberry Ghosts from CandiQuik
This only takes about 45 minutes to make and makes like 24 strawberry ghosts.  It is explained just how to make these fun ghosts below.  I think I am going to have my wife make this one.  They look delicious!
1 (16 oz) package Vanilla CANDIQUIK Coating

24 Fresh strawberries

Mini chocolate chips
Melt Candiquik in tray according to directions on package.

Place a large piece of wax or parchment paper on a flat surface.

Dip strawberries in melted Candiquik Coating, remove and allow the excess coating to pour off onto the wax paper to form the "tail" of the ghost; slide the strawberry back and set on wax paper to dry.

Before coating has set, place two mini chocolate chips on as the eyes. For the mouth, cut off the tip of a mini chocolate chip and place on the strawberry with the bottom side facing up.
I hope you give some of these 5 Halloween recipes a try like I plan on doing.  Heck we might make all 5 of them.  If you like a particular recipe give some love to the owner as I have linked their websites with each recipe.  I am sure they would love to hear what you think of their recipe.  
If you are looking for healthy recipes to make outside of Halloween and you haven't picked it up yet I have compiled 197 healthy recipes sorted into breakfast, lunch/dinner and desserts.  Yes, healthy desserts.  🙂
I am giving it away for free right now as a thank you for checking out my blog and this compilation of Halloween recipes.  Just click the image below and you will get instant access to all 197 recipes.  
Enjoy!